As an Amazon Associate, we earn from qualifying purchases. This means that if a reader clicks on a link or an image of the product, we may receive a commission. There is no additional cost to you — it helps pay for hosting and server costs. And it does not affect the quality of the content, as we always recommend our readers the best sources.
Do you have a DJI drone, specifically the Inspire 2? If so, you might be looking to upgrade the camera, and we have the perfect option for you to check out. If you are a professional who needs an excellent drone camera, then you need to keep reading.
DJI Zenmuse X7 Camera
The DJI Zenmuse X7 Camera might just be the best drone camera on the market at this time.
Who is This Product For?
The DJI Zenmuse X7 Camera is for people who have a DJI Inspire 2 drone and for those who want the best possible drone camera available. This is a high-end, top of the line, and expensive drone camera designed for professional use.
Zenmuse X7 Camera Pros and Cons
Pros

Extreme high-quality images and videos
Many different picture shooting modes, formats, and resolutions
Many different video shooting modes, formats, and resolutions
Can handle a great deal of storage
Amazing gimbal for stabilization
Easy to mount
Overall super high quality in every regard

Cons

Extremely expensive
Only for the DJI Inspire 2 Drone
Lens not included

Quick Conclusion
The bottom line is that the DJI Zenmuse X7 Camera might be the best drone camera on the market. It's just a shame that it's really only compatible with one specific drone.
What's Included?
When you purchase the DJI Zenmuse X7 Camera, you get a 6K camera mounted on a three-axis gimbal. Once again, this camera is designed for the DJI Inspire 2 Drone.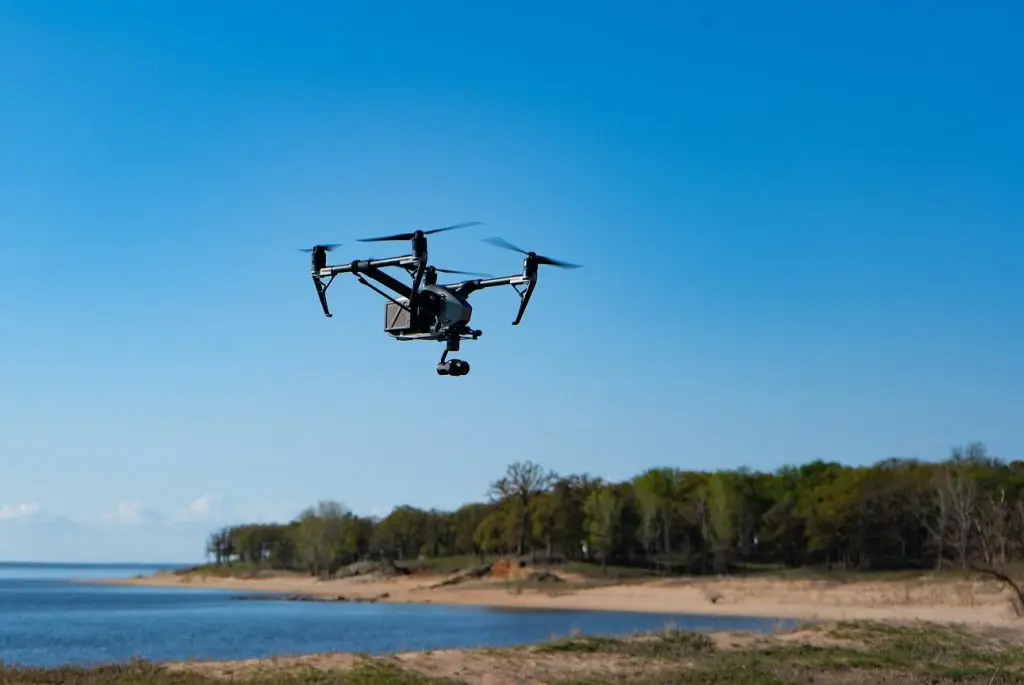 Overview of Features
The DJI Zenmuse X7 Camera is one of the best drone cameras, and it comes loaded with excellent features and functionality. First, keep in mind that this camera is mounted on a fantastic three-axis gimbal that allows for stabilization.
This gimbal is very high-quality, and it can correct the angle and position of the camera for all three axes, including pitch, yaw, and roll stabilization. This means the gimbal keeps your camera steady and allows for shake-free pictures and videos. Moreover, the gimbal is detachable, so you could technically change it if you want to.
When it comes to the camera's specs, it comes with a Super 35 Sensor that can produce pictures with 24 MP of resolution. It produces some very crisp, sharp, and high-resolution images that will look as real as life.
What's also cool is that you can adjust the aspect ratio or size of the photos with three options, including 3:2, 4:3, and 16:9. This camera can take pictures in various formats, including DNG (DJI CINESSD) and DNG, JPEG, DNG+JPEG (Micro SD).
The ISO for photos can be adjusted from 100 to 25,600 for the best colors and brightness; it has world-class shutter speeds for those fact action shots.
Moving onto the picture shooting modes, you get single shot, burst shot, interval shot, and auto exposure bracketing (for Micro SD), as well as raw burst shooting at up to 20 FPS when using an SSD.
As for shooting videos (this is where it gets really interesting), this camera can handle various aspect ratios and shooting modes. In terms of aspect ratio for videos, you can choose from 17:9, 16:9, and 2.44:1.
Moreover, there are also several video shooting modes from within each of those aspect ratios. These include CinemaDNG, ProRes RAW, ProRes RAW HQ, ProRes, H.264, and H.265.
We aren't going to go into too much more detail because there is a massive list of specs that we could talk about in terms of video shooting formats, aspect ratios, and resolution. However, the important thing to note is that this camera can handle many video resolutions, including 6K, 5.4K, 4K, 4K UHD, 3.9K, 2.7K, 2K, FHD, HD, and more.
As you can see, this camera can shoot videos in many modes, and if you choose to shoot in 6K, your videos will look as good as humanly possible. The ISO range for video is 100 to 6400
The DJI Zenmuse X7 Camera weighs just around 1 pound, which is not super lightweight, but that's the sacrifice made for such a high-quality level. Even though this drone camera may be quite heavy, it has plenty of storage capabilities, potentially up to 128 GB. The only real drawback, besides the price, is that there is no lens included.
Tutorial
Perhaps the most important thing is that the DJI Zenmuse X7 Camera is for the DJI Inspire 2 Drone.
The other thing that you need to know is how to properly mount the camera onto the drone. This is important if you expect the camera and the gimbal to function correctly, and moreover, if you don't want the camera to fall off the drone. You will also need to balance the gimbal properly.
To help you with mounting the camera, check out this video.
Alternatives
Instead of looking at alternatives, we want to take a quick look at the DJI Inspire 2 Drone itself.
Just like the camera, this is an expensive and top-of-the-line drone designed for professional use. It has excellent battery life, super-long range flight capabilities, and all of the features that a drone can handle. It really is the best of the best.
The camera doesn't come with a lens, but you can check out the DJI DL & DL-S Lens Set for Zenmuse X7 Camera (it comes with four lenses).