1. What is FPV freestyle?
In contrast to drone racing, which merely entails completing an obstacle course as quickly as possible, FPV freestyle entails maneuvering through narrow gaps, around obstacles, under trees, and through tight turns while performing tricks. To avoid striking the ground while performing a power loop or clipping a racing gate, pilots must do all of that while being aware of their spatial positioning.
2. Best 5 inch FPV freestyle drone motor recommendation
Here I would like to recommend MEPS SZ2306 5Inch Freestyle Motor, which is the best fpv freestyle drone motor. It is difficult to find an FPV motor of the same weight that is stronger than the SZ2306, so you may have one for your FPV drone that is extremely lightweight and extremely durable. The following is some characteristics about it.
Freestyle Specialist: It's the perfect option for anyone looking to advance freestyle flying because it offers enough power and stability for brisk flight.
Innovative Design: The motor runs as smoothly as silk thanks to the CT4 strengthened titanium alloy shaft, N52SH arc magnets, and increases in efficiency and motor response time.
Better Material: Ensure dependability and quality. Superb balance control that offers a responsive and fluid flying experience.
Individually Pre-factory Test: Different KVs pair with various batteries and propellers to accommodate various flying techniques.
Different KV Options Available (1750, 1950, 2450): Different KVs pair with various batteries and propellers to accommodate various flying techniques.
3. How to choose different KV value for FPV freestyle drone motors?
Whether beginners should select 4S or 6S batteries is one of the most hotly contested topics in FPV right now. It is believed that 6S has a slight performance advantage, but it is also a little more expensive and more likely to blow ESCs under heavy load. If you decide to use 4S, pick a motor with a kv range of roughly 2300 to 2700 for five-inch freestyle. If you decide to use 6S, pick a motor that is between 1600 and 1800 kv. Less powerful yet longer-lasting and easy on the battery are lower kv motors.
This means that if you use 4s, 2450kv of MEPS SZ2306 5Inch Freestyle Motor should be selected, while if you prefer 6s, 1750kv of which is the right choice.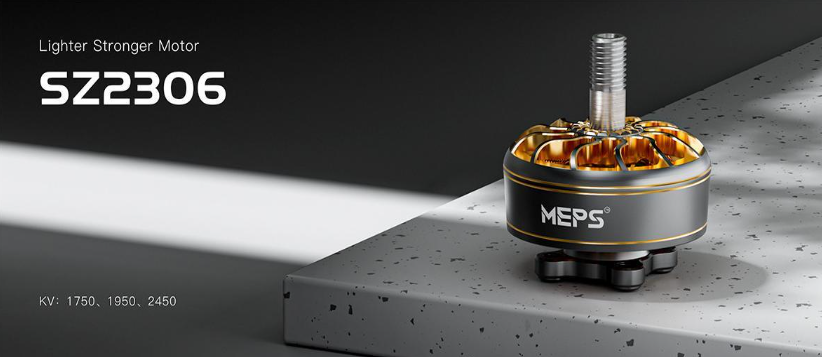 4. Is motor weight critical for FPV freestyle drone?
Motor Weight Although it is frequently disregarded, it is actually an important consideration when choosing an FPV drone motor, especially for high-performance models like freestyle drones. The quadcopter's response is greatly influenced by the motors, which are located at each of the four corners of the frame. In order for the motors to change the drone's attitude, heavier motors must produce more torque in addition to thrust.
When your quadcopter flips or rolls in real-world flight situations, it takes some time to build angular acceleration, get to the desired position, and then come to a stop. The drone feels less responsive since heavier motors take longer to accelerate and decelerate to the required angular speed. This is crucial if your flying style—like freestyle —involves quick changes in direction. Motor weight might not be as important for individuals who are primarily interested in straight-line sailing, like cinematic cruisers.
MEPS SZ2306 5Inch Freestyle Motor meets the need of ultra light weight by using lighter weight, high-quality 6082 aluminum alloy, and high-precision CNC processing technology.
5. Efficiency and current consumption of FPV freestyle drone motor
It's critical to take motor efficiency into account when selecting an FPV freestyle drone motor. Motor efficiency is commonly determined by dividing thrust by power at 100% throttle, measured in grams per watt (g/w). A more significant number denotes a more effective motor.
Don't limit your analysis of efficiency to the top end, though. Examine efficiency across the whole throttle range, paying particular attention to the area where you will be flying the majority of the time. Some motors may be effective at lower throttle levels, but as they draw more current and get closer to their limitations, they start to lose efficiency.
"Grams per amp" (thrust/current) is another helpful indicator for assessing efficiency.
In general, the current needed to produce thrust grows as thrust does. Therefore, high thrust, low current draw motors are preferred. Ineffective motors could provide insufficient thrust or consume too much current.
varied propellers have varied effects on each motor. For the thrust and efficiency to be balanced, the propeller must be chosen properly.
Keep in mind that choosing a battery also depends on efficiency and current draw. Finding the appropriate balance is crucial to maximizing the performance of your drone because an efficient motor with a high current demand can damage your battery and result in voltage sags.
MEPS SZ2306 5Inch Freestyle Motor has the Innovative Design and Top-Quality Components to
meet the remarkable durability and response faster because of the Unibell covering design which is tough, sleek and durable and N52SH arc magnets which increase efficiency and shorten motor response time.
6. Matching Recommendation for 5 inch FPV freestyle drone motors
The 5-Inch Quadcopter is Very Suitably Modeled for the SZ2306 Model. To build the Freestyle FPV Drone, we Strongly Recommend Racers Combine This Drone Motor With High-Quality 35A AIO Brushless FC and 5-Inch Props.
Plug-in-Play DJI HD Support: For simple installation, no soldering required. a built-in HD OSD that monitors flight status.
With 5V/2A and 10V/2A BEC outputs for various peripherals like GPS, LED strips, buzzers, etc., it is multi-peripheral friendly.
With the STM32F7 MCU and MPU6000 gyro sensor, there is a lower latency and a smoother operation, faster computation, and sensitive reaction.
Reduced Heat Generation: The VTX switch capability allows the VTX to be remotely turned off in order to minimize heat generation and interference.
Simple tuning experience: Configurable with Betaflight Configurator software and compatible with Betaflight firmware.
High Current Load capability: The FPV drone ESC ensures that you enjoy the flights with unrivaled pleasure and satisfaction whether you are executing acrobatic acrobatics or racing at high speeds. It has a current load capability of up to 60A.
Improved Heat Dissipation: This FPV drone has an updated heat sink and an industrial-grade PCB, which considerably increases the heat dissipation capacity and ensures that the efficiency is maintained even under strenuous circumstances.
Compatible Mounting Holes: Its 30.5*30.5mm mounting holes make it compatible with the majority of popular FPV frames, giving pilots more installation freedom.
Telemetry Data Return: This feature gives you complete access to all of the relevant flight data and helps you to monitor and fine-tune your drone's performance for the best possible flight experience.
BLHeliSuite32: supports more advanced protocols, giving a quicker response and more dependability.
6.3 MEPS SZ4942 Racing Drone Prop
Here are the bullet point of MEPS SZ4942 Racing Drone Prop which I would like to recommend.
A unique blade design offers more thrust.
Less wind resistance is created by smooth surfaces.
More durable polycarbonate material.